Our Amazing Student Made Products


Cal Poly Chocolates
Cal Poly Chocolates was started in 2000 by now retired FSN Faculty member Dr. Tom Neuhaus. Cal Poly Chocolates uses Fair Trade Organic Chocolate (32% Cocoa Milk, and 65% Cocoa Dark) to produce a chocolate bars for sale. Student employees learn about the science and art of chocolate making and some of the tools and equipment used to make all things chocolate. Cal Poly Chocolates has many flavors, but our Milk Chocolate Bar and Dark Chocolate Bar are our most popular.  Some current, seasonal and limited-edition flavors you might see on the shelf are: Milk, Dark, Raspberry Crisp, Coffee Crunch, Peppermint Crunch, Zesty Orange, Green Tea Matcha Milk Bar, Birthday Cake, Toffee Crunch, S'mores, and Hot Habanero.
Tempering Wheel- One of the first steps in our process.  Melting chocolate, adding "seed", and achieving and maintaining TEMPER.
Tempering is a word that means improving the consistency, durability or hardness of a substance by heating and cooling it. Many substances, including metals, are tempered but the most important one might be chocolate. Tempered chocolate is very glossy, has a firm finish and melts smoothly at around body temperature.  
Depositing our Chocolate into Moulds
We transfer our tempered chocolate from our tempering wheel to our depositor. The depositor has a water jacketed hopper that keeps the chocolate at a consistent temperature to maintain temper. The chocolate is pushed out of the hopper into our chocolate moulds.
Chocolate Being Deposited into Moulds. 
A close up of chocolate being deposited into our moulds.  There are 5 bars being filled at a time.


Weighing our moulds filled with chocolate!
Vibrating Table
After the chocolate has been deposited into the moulds, we transfer the moulds to the vibrating table. This step eliminates air bubbles within the chocolate and creates a uniform bar.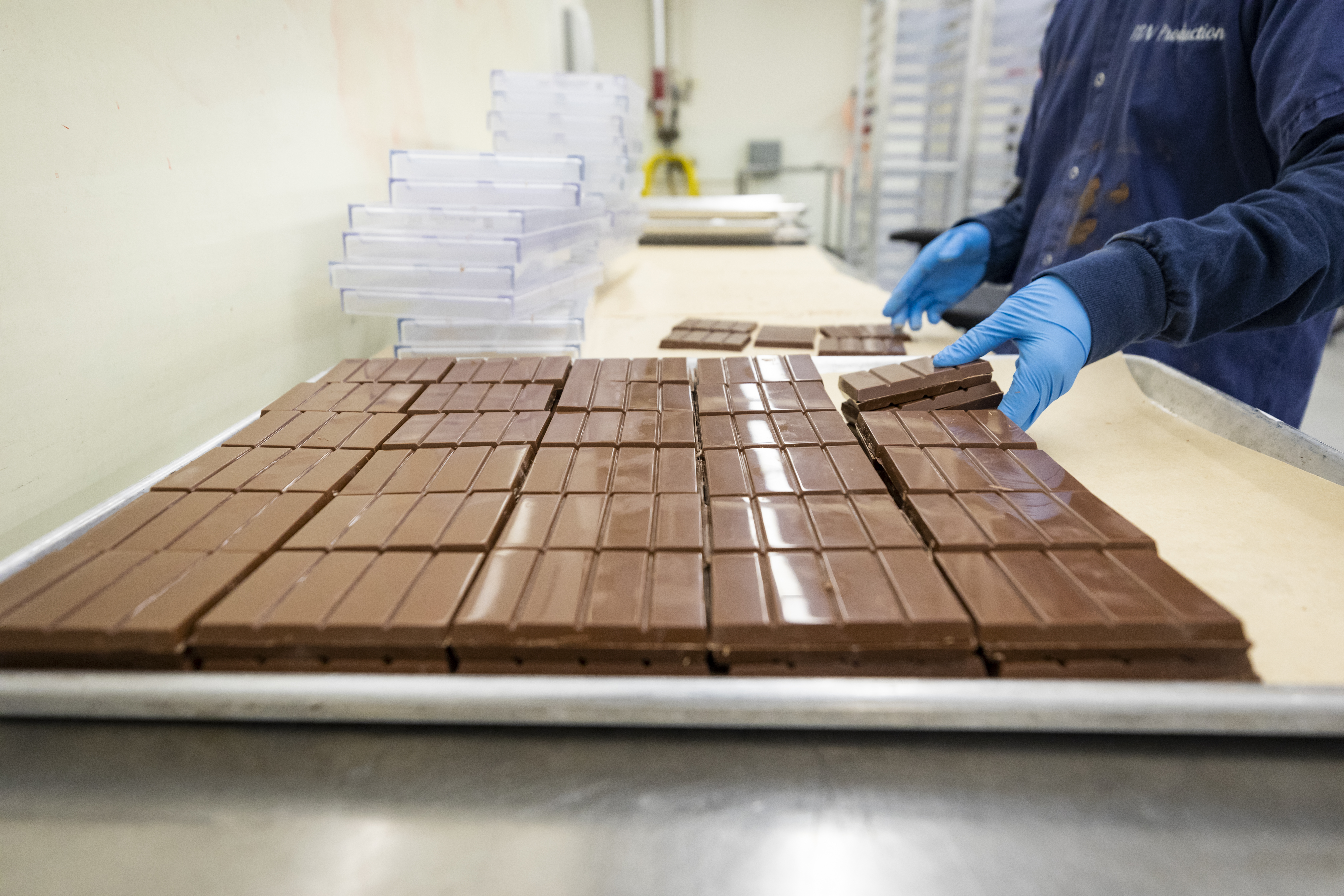 Cooling and Mould Break Out
Once the moulds have cooled, we break them out of the moulds and stack them on sheet pans. From here they will go to packaging!
Packaging!  Form, Fill, Seal
Using a form, fill, and seal machine we wrap each of our bars.
Final Step
Placing finished, wrapped bars into lug tubs for inventory and sales!
Cal Poly Jams
Cal Poly Food Science & Nutrition students have been making jam on campus for more than 40 years. What began as a food science lab exercise has grown to become a successful student-led commercial enterprise producing more than 15,000 jars annually. All products are produced in Bldg 24 in the FSN Pilot Plant where students work on a small-scale processing line. Students design, produce, package and market products under the direction of faculty and staff. There are currently four jam flavors, but our students are always thinking of new product ideas! 
 
Olallieberry Jam
Our most popular flavor and question! "What is an olallieberry?!!"
We source our olallieberry's from an Alumni's organic Family Farm in Aromas, CA.  The olallieberry is unique to the Central Coast and is our signature jam that has been produced in our labs for over 40+yrs! Be sure to grab a few jars, it is enjoyed by ALL. 
 
Raspberry Jam
A tart jam, that's perfectly balanced to be used for desserts, or slathered on your toasted English muffin. Our raspberry jam was developed in 2013 by some of our own food science students. Raspberries are sourced from Clovis, Calif.
Strawberry Jam
Seasonally made with Cal Poly Strawberry Center Strawberries. Since this item is seasonally made, if you see it on the shelf - Grab it!  It sells out quickly and is delicious.
Blackberry Jam
Our blackberry jam is a yummy jam, with nice chunks of berries. This flavor was developed in 2016 by some of our own food science students. Blackberries are sourced from Clovis, Calif.
Jam Production Pictures and Process:
Adding Ingredients to a Steam Jacketed Kettle
Mixing and heating sugar and berries in our Steam Jacketed Kettle.
Performing a pH test on our jam to make sure it meets specifications.
Filling our jam jars two at a time.  
Jars filled with jam and heading to capper for a lid.
Jam jars filled, capped and being conveyed to washline and labeller. 
Jam jar labeled and heading to accumulation table.
Jam labeled and ready to be packaged in boxes for sale! 
Cal Poly Barbecue Sauce
In 2013 CP FSN Production came out with two BBQ Sauce flavors, Sweet Hickory and Fiery.  These products were the basis of a senior project in 2017, a group of students reformulated the sauces to meet market demands by eliminating high fructose corn syrup and xanthan gum from the formulation. Since the reformulation, these sauces have become a hit and we have heard that folks use these sauces on everything from ribs to a dip for chicken nuggets.
Sweet Hickory BBQ Sauce
The molasses in this product make it rich, while the hickory smoke blends everything together.  A great addition to the family BBQ, use as a dip, spread on a wrap or use as an ingredient!
Fiery BBQ Sauce
Just a small kick of spice brings this sauce together and it will soon be a family favorite!
Related Content